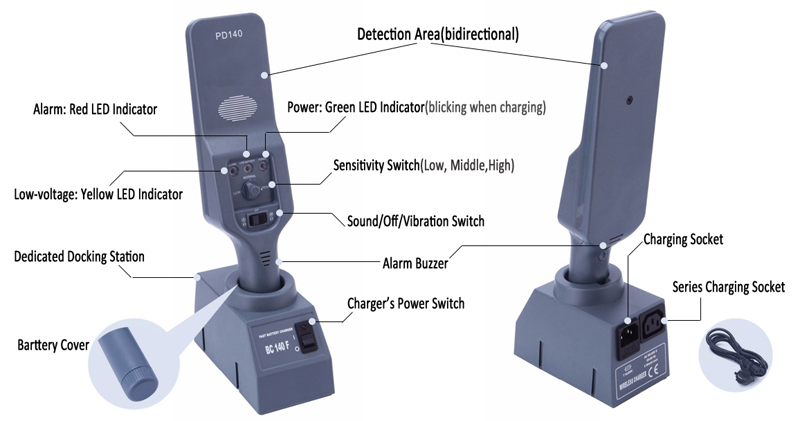 Features of Hand-Held Metal Detectors for Safety Check PD140:
Compact, elegant, robust and ergonomic design.

Three sensitivity mode

to select, high, middle and low

, even

detect

small hidden metal objects.

Two reflect modes to choose: Sound or Vibration Alerts, meet your needs on different occasions.

A bidirectional surface shape that makes inspection non-intrusive and fast.

Automatic calibration to keep

the detector

in perfect condition.

The built-in fast battery charger in combination with the dedicated docking station.

It supports series charging, can charge several PD140 simultaneously.

It is powered by one 9V battery or rechargeable battery(optional) life of over 40 hours.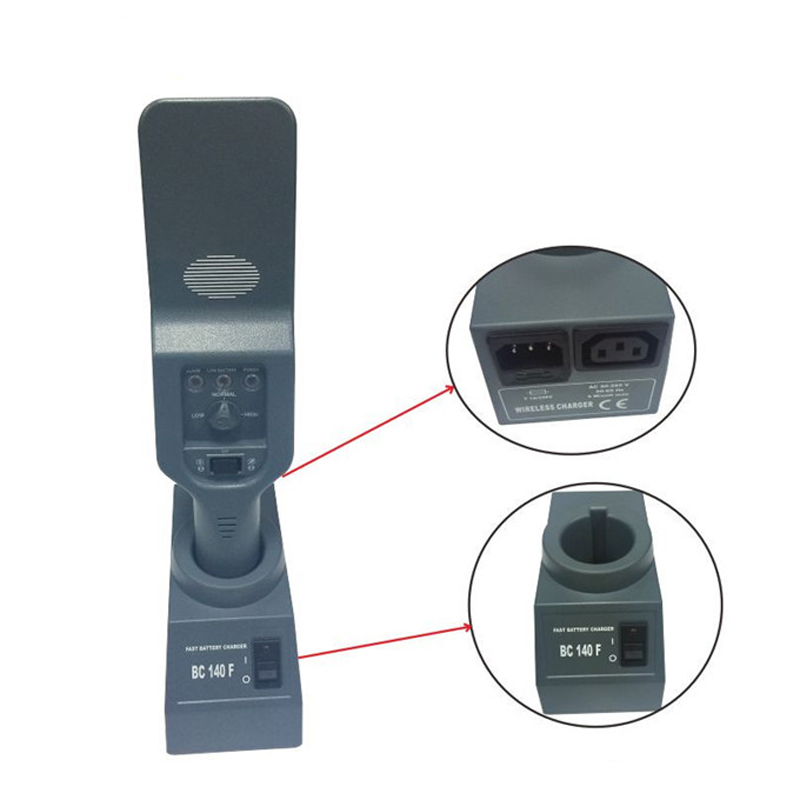 Specifications
| | | | |
| --- | --- | --- | --- |
| Brand: | Secuera | Model: | PD140 |
| Charging Supply: | 110-240Vac 50/60 Hz | Size: | 345*80*12mm |
| Alarm: | video LED & audio/ video LED & vibration | Operate Frequency: | 22Khz |
| Operating Temperature: | -20°- +55° | Battery: | 9V standard or rechargeable battery |
| Gross Weight: | 0.8KG | Body material: | Shockproof ABS |
| relative humidity: | 0-95% | IP rating | IP64 |
Sensitivity Adjustment
When the detection distance is less than the standard requirement or the sensitivity of the body is too high, there will be unstable performance. At this time, the sensitivity should be adjusted. There is also the need to adjust the sensitivity when the detected human body does not carry any metal objects but raises an alarm. Adjust the sensitivity as follows: Insert a small straight-shaped screwdriver into the small hole of the handle of the detector and rotate clockwise, until a sound is ahead, then rotate counter-clockwise barely to the position where no sound is produced, then rotate for another half a circle, until the sensitivity meets the requirement.
Method to use

If you hear a click when the power switch is turned on, the power is connected and the green LED will illuminate. If you do not hear a click, it means that the battery is not installed or the battery is not connected properly and needs to be adjusted. If you hear a click, you will find that the battery is low and you cannot work. You should install a new battery. When the click stops, the hand held metal detector can be used to perform high sensitivity detection. Hold the handle and sweep across the detection surface around the object being inspected, and an alarm will be issued when a metal object is detected. At the same time, the green LED will turn red. When the test is stopped, the alarm also stops and the red LED turns green.