Features Of Walk Through Metal Detector SE1806E
1. Six detecting zones which overlapped each other are as tall as the examinee, combine with alarm-LED on every zone. Show the position of target metal directly.
2. Four emitters match with receivers opposite, eliminate detecting blind spots.
3. Sensitivities can be adjusted: Each area's sensitivity can be adjusted from 0 to 255. You can select the right sensitivity you want. For example you can change the sensitivity to avoid inferences such as the coins, keys, buckle, etc.
4. The function of statistics: The number of passed examinees and the alarm times can be count.
5. Parallel operation: The gate can not only work alone, but also work together with the same model (when parallel operate, the distance between each unit must more than 40 cm), so that it can meet the demand of big visitor flow rate.
6. No harm to people: The gate is harmless to people with cardiac pacemakers, pregnant women, tapes, videotapes.
7. Installed conveniently: Integrated design, you can assemble or disassemble it in 20 minutes with the operation instruction.
8. Protected by password: Only the authorized person can operate it.
9. Location signal display light: Display the responses of each zone apart (independent of alarm lights). Adjust the sensitivity of each zone according to the responses, and get the best sensitivities.
Application Of Walk Through Metal Detector SE1806E
1. Places which should be security examined. Such as airport, customs, harbor, station, etc.
2. Places where prohibited metal items should be examined. Such as court, police station, jail, lockup, etc.
3. Public places entrances Such as important place, exhibition, business rally, celebration meeting, stadium, etc.
4. Industries where the valuable metal articles should be avoided missing. Such as hardware, electronics, jewelry, coinage line , etc.
5. Entertainment places where dangerous items should be forbidden. Such as nightclub, theater, ballroom, bar, KTV, etc.
6. Places where the dangerous items should not be taken with, such as the Bank , Government , Post office, school , private house ,etc.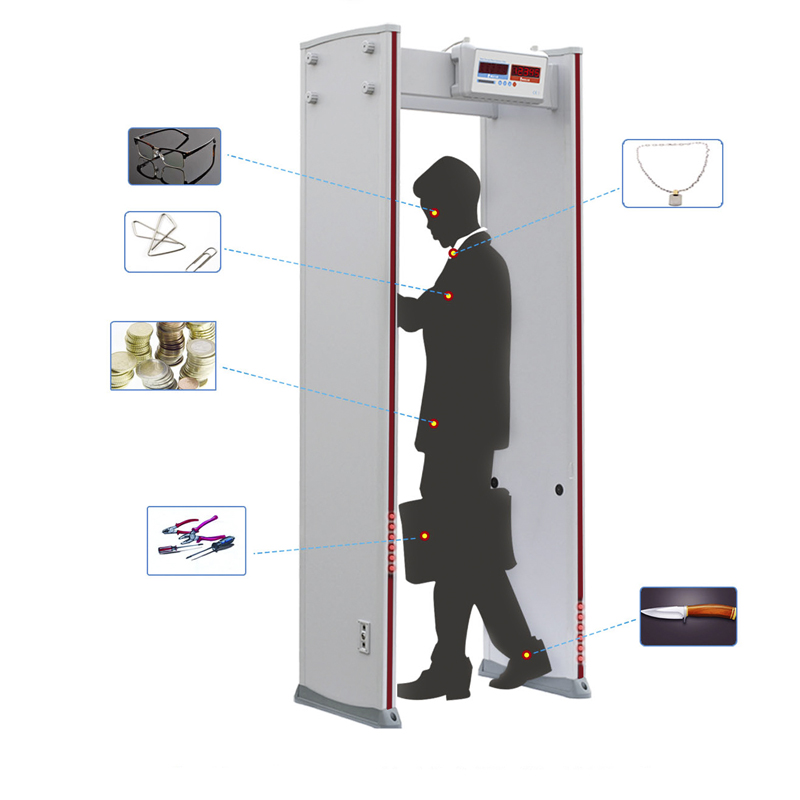 Technical Parameters

Power Supply

220V/AC

Power

<30V

External Dimension

2200mm(H)*820mm(W)*550mm(D)

Passageway Dimension

2000mm(H)*700mm(W)*550mm(D)

Work environment

-20°C- +70°C

Standard

GB15210-2003
Standard configuration

Main Case

ONE Unit

Left Probe

ONE Unit

Right Probe

ONE Unit

Power Line

ONE Unit

Screws

Eight Unit

Instruction

ONE Unit

(Including one Certificate of Quality & Guarantee Repair List)
Packing
Main Case Packing: 0.755m*0.485m*0.255m (Carton)
Probe Packing: 2.27m*0.62m*0.19m(Carton)
Volume in total: 0.361 m3
G .W.: 50kg (Approximate)
Optional Accessories
Slipping groove: Let the personal belongings which may be interference (such as keys, watches, cell, etc) slip through.
Remote Control: Control the gate within 10 meters, when paralleled the distance should be short.
Storage Battery: Maintain the gate working for about 4 hours after charged.