Features Of Walk Through Metal Detector SE2400S:
Easy Assembly
The SE2400S modular design allows for a quick and simple assembly of its 4 (four) sub-assemblies using only 8 (eight) screws and 3 (three) internal electrical connections.
24 Distinct Pinpoint Detection Zones
The SE2400S offers exclusive multiple target pinpointing with 24 distinct zones for full target coverage on the left, center and right side of the body from head to toe.
Entry Pacing Lights
Smooth, efficient traffic flow with easy-to-view, eye-level pacing lights with international "wait" and "Ready" symbols on the entrance side of each panel.
Overhead Control Unit
LCD Display, alarm lights, LED bar graphs and control touchpads plus all wiring, connections and electronics are integrated into a single lockable overhead compartment which eliminates exposure of wires and external control box.
Multi-dimensional Coil Design
The SE2400S exclusive multi-dimensional coil design provides unmatched detection of potentially lethal metal items such as guns, knives and other flat and rod-shaped weapons regardless of location and orientation.
Audible and Visual Alarms
Audible alarm and Visual LED lights signal when a target has been detected.
Superior target detection with unmatched discrimination of harmless items such as coins, jewelry, keys, cigarette packs, etc.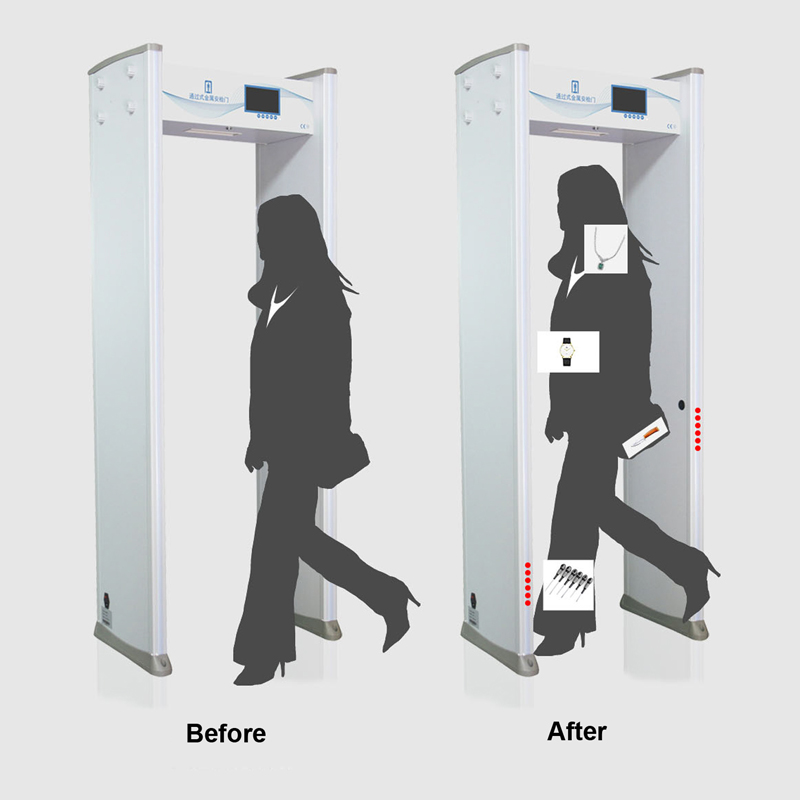 Technical Parameters

Power Supply

220V/AC

Power

<30V

External Dimension

2200mm(H)*820mm(W)*550mm(D)

Passageway Dimension

2000mm(H)*700mm(W)*550mm(D)

Work environment

-20°C- +45°C

Standard

GB15210-2003
Optional Accessories
Slipping groove: Let the personal belongings which may be interference (such as keys, watches, cell, etc) slip through.
Remote Control: Control the gate within 10 meters, when paralleled the distance should be short.
Storage Battery: Maintain the gate working for about 4 hours after charged.
Applications:
l Airports
l Correctional Facilities
l Public Buildings
l Private Buildings
l Schools
l Special Events
l Nuclear Facilities
l Transportation Terminals
l Courthouses
l Corporate Security
l Historical Landmarks
Packing
Main Case Packing: 0.755m*0.485m*0.255m (Carton)
Probe Packing: 2.27m*0.62m*0.19m(Carton)
Volume in total: 0.361 m3
G.W. : 50kg (Approximate)