Features Of Walk Through Metal Detector SE100:
1. Double infrared detector, Digital circuit design, Anti-interference.
2. Detect in single zones
3. Sensitivities can be adjusted: sensitivity can be adjusted from 0 to 100. You can select the right sensitivity you want. For example you can change the sensitivity to avoid inferences such as the coins, keys, buckle, etc.
4. The function of statistics: show the number of passed examinees and the alarm times
5. Easily to operate: The operation panel is covered by thin plastic, Bright light alarm can show the warning zone directly and find the precise position of target metal.
6. Both light and auditory alarm, can make the warning clearly. Improve work efficiency.
7. No harm to people: The gate is harmless to people with cardiac pacemakers, pregnant women, tapes, videotapes.
8. Installed conveniently: Integrated design, you can assemble or disassemble it in 20 minutes with the operation instruction.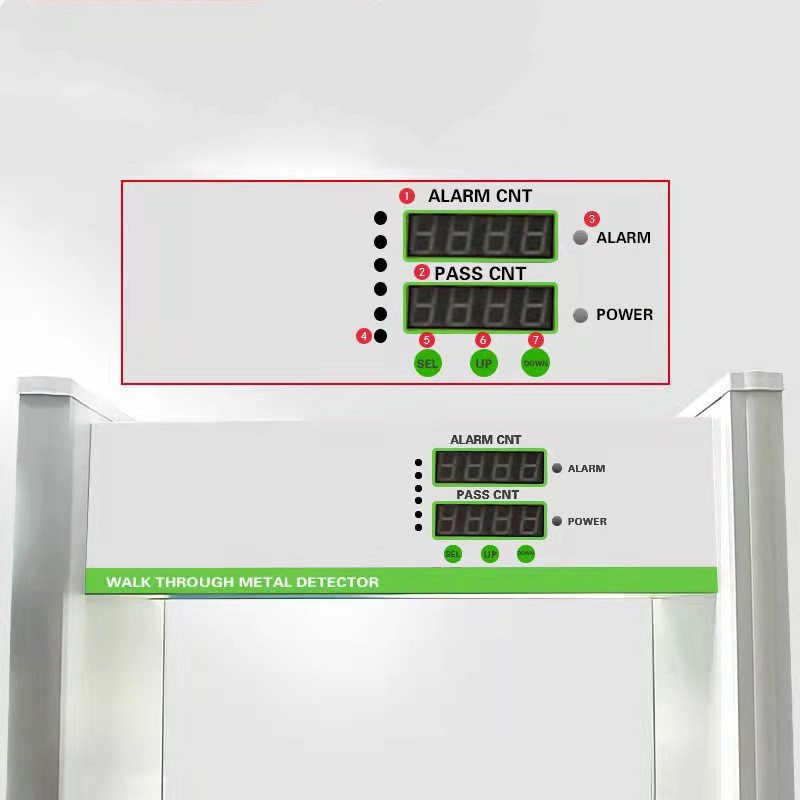 Technical Parameters Of Walk Through Metal Detector SE100
Power Supply: 220V/AC
Power: <30V
External Dimension: 2220mm(H)*800mm(W)*400mm(D)
Passageway Dimension: 1980mm(H)*700mm(W)*300mm(D)
Work environment: -20℃- +45℃
Standard: GB15210-2003
Packing
Main Case Packing: 0.75m*0.245m*0.0.305m (Carton)
Probe Packing: 2.26m*0.0.36m*0.18m (Carton)
Volume in total: 0.25 m3
W. G: 40kg (Approximate)
Standard
One Main Case One Left Probe One Right Probe
One Power Line Eight Screws
One Instruction (Including one Certificate of Quality & Guarantee Repair List)
Application Of Walk Through Metal Detector SE100
1. Entertainment places where dangerous items should be forbidden. Such as nightclub, theater, ballroom, bar, KTV, etc.
Examining Standard
Electrical Equipments standardized by EN60950.
Radiation standardized by EN50081-1.
Anti-inference standardized by EB50082.
Execute the standard of National Standard of Metal Detector
PS: Coin Standard: The gate can detect gun &knife with out inference