Portable explosives and narcotics trace detector(SE800BX)
Product introduction:
The SE800BX is a new generation of portable explosives and narcotic detectors. It uses high-resolution ion mobility spectrometer technology with fast detection speed, high precision, simple operation, low false alarm rate and distinguishable dangerous goods. It has many types, low power consumption, small size, light weight, portability, easy maintenance and strong adaptability. It can accurately detect all black explosives and all explosives and drugs prescribed by ICAO.
This product has passed the international ISO9001 quality certification, ISO14001 environmental certification, and obtained the inspection report of the Ministry of Public Security.
Product Advantages:
♦ Accurate detection:
High-resolution ion mobility spectroscopy technology is adopted. In actual work, it is not necessary to align the dangerous goods in the package, and only the test package is wiped with the test paper to detect whether or not the dangerous goods are carried. Easy to operate and accurate.
♦ One machine dual mode:
It adopts positive and negative dual mode, no need to switch manually, one machine can realize double detection of explosives and drugs at the same time.
♦ Accurate identification:
The type of the dangerous goods can be accurately identified, and the name of the dangerous goods to be inspected can be reported.
♦ Extreme speed analysis:
The detection and analysis speed is faster than similar products, and the results are within 3 seconds.
♦ Automatic calibration:
With automatic calibration function, it can adapt to various environmental changes.
♦ Automatic cleaning:
With self-cleaning function, it can be cleaned quickly and conveniently after overload detection.
♦ Automatic diagnosis:
It has automatic fault diagnosis function and can promptly issue a warning. The user can judge whether the instrument can operate normally according to the warning.
♦ Real-time update:
Open database, sample library information can be upgraded at any time.
♦ Full color screen:
equipped with 5.6-inch 137 TFT color touch screen.
♦ Real-time storage:
It has real-time data storage, retrieval, and export functions, and the storage capacity is not less than 1 million.
♦ Real-time positioning:
With GPS positioning function, it can tell the user where the instrument is located in real time.
♦ Remote monitoring:
Remote status monitoring, result viewing, and fault diagnosis can be implemented through network.
♦ Automatic printing:
With printing function, users can freely choose to print content.
Software detection interface: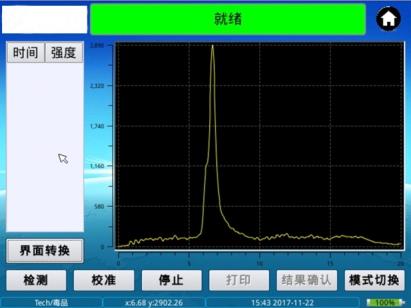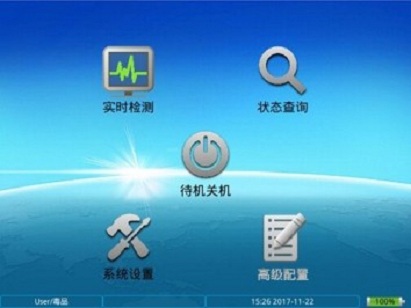 Product Features:
Explosives types:Various military, civilian and earth explosives such as: Black Powder, AN, TNT, Tetry, PETN, RDX, Nitroglycerin, Octo, C4, Semtex, DNT, etc., and new samples can be added as needed.
Narcotics types:Cocaine hydrochloride, heroin hydrochloride, tetrahydrocannabinol, methamphetamine (ice), morphine hydrochloride, ketamine hydrochloride (K powder) and other common drugs on the market, and new samples can be added as needed.
System functions:Automatic cleaning function, automatic diagnosis function, automatic calibration function, printing function, GPS positioning function, remote operation function, data export and backup function,etc.
Technical standard:
Enterprises passed IS09001:2008 Quality Management System Certification

Enterprises passed 0HSASl 8001 occupational health certification

Enterprises passed ISO14001 environmental management certification

Products passed the test report of the product quality supervision and inspection center of the Ministry of Public Security

Products passed EU CE certification

Products passed EU ROHS certification

Products passed the US FCC certification
Dimension Drawing