Airport X Ray Luggage Machine Multi Energy Color X-Ray Baggage Scanner Secuera SE8065
X-ray inspection is commonly used for security screening of baggage, such as checked and carry-on luggage. The core system consists of x ray source, L shape photo detectors and software. They're used to build a picture of what's inside baggage and allow security staff to check anything that looks suspicious. X-rays launched from one side of the machine are picked up by a pair of detectors on the opposite side. As your bag enters through the lead-lined curtains, it crosses the path of these X-rays and absorbs some of the energy they carry. This means that the X-rays that passed through the baggage have less energy than those that sailed straight past.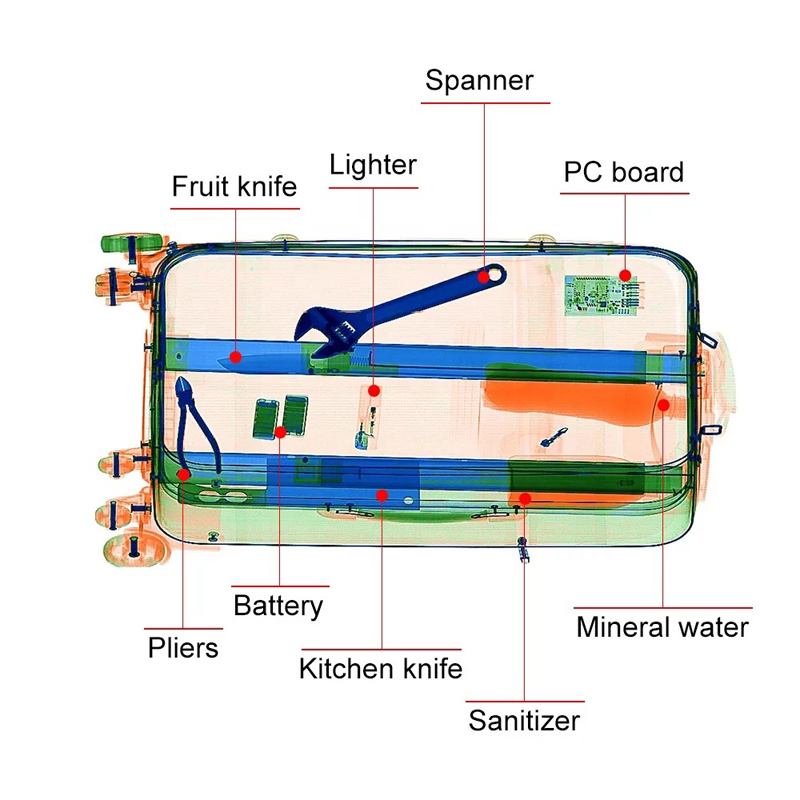 | | |
| --- | --- |
| Tunnel Size | 805*650mm |
| X-ray Sensor | Multi-energy |
| Max. Load | 200 kg(Evenly distributed) |
| Conveyor speed | 0.22m/s |
| Conveyor height | 370mm |
| Image Resolution | 21.5"LCD 1920*1080 |
| System Noise | <58 dB |
| Film safety | Guarantee ISO 1600 Film |
| System Voltage | 220 VAC (±10%) 50±3HZ |
| Power Consumption | 0.8kw (Max) |
High Definition Image




Adopt new generation of HD schema design, providing clear images and stable performance.

Dynamic Processing




Real-time display, optimization functions like edge enhancement, amplification and so on.

Image Management




Built-in image management system, which enables users to browse saved images quickly.

Intelligent Alarm




User can set the alarm threshold, and realize acousto-optic alarming prompt when the impermeable items are detected.

Green Lead Curtain




Wear-resistant, pollution-free, long service life.

Self-Diagnose




Automatically prompt when failure is detected, and be convenient to maintain.

Shutdown With One Key




When you try to turn off the equipment, just rotate the key, which is convenient and simple.

Network Interface




Use standard Ethernet port to transmit images with rapid processing and great anti-interference performance.

Intelligent Roller




Roller will automatically rotate when there is luggage on the conveyor belt, otherwise, the roller will stop rotating making this product environmental-friendly and energy-saving.

Threat Image Protection




TIP is fully configurable by high level users, where parameters such as type of threats, frequency of projection etc. can be configured.
Compliance
Of X Ray Baggage Scanner SE8065
CE compliance




Directive 2004/108/EC Electromagnetic




Directive 2006/42/EC Machinery




Directive 2006/95/EC Low Voltage

ISO9001 Quality Management System

ISO14001 Environment Management System

OHSAS18001 Occupational Health Management System
Applications
Of X Ray Baggage Scanner SE8065
Hotel, Checkpoint, Shopping mall, Customs, Port, Gym, Warehouse etc.
Installation Sites
Of X Ray Baggage Scanner SE8065
Railway station in Shenzhen China
SF Express in Beijing China
Hotel in India
Warehouse in Afghan