SE-V5
Description
SE-V5 inspection mirror is designed for rolling under vehicles and large objects to view and inspect areas which are difficult to see underneath. This mirror features either three or four castor wheels to allow the mirror to be easily maneuvered. The extra deep convex mirror ensures a maximum viewing area. Comes complete with fully adjustable handle and drawstring protection bag.
The vehicle security inspection mirror's typical uses include entry security, parking lot security, traffic stops, military check point, auto maintenance, airports, police sheriff, etc. The under vehicle inspection mirror has adjustable rods and handle with LED light so it can be used day or night. Wheeled Under Car Search Mirror with LED Torch for Security Check on Cars, Vans, Trucks and Storage Tank, Construction Equipments, etc.
Detail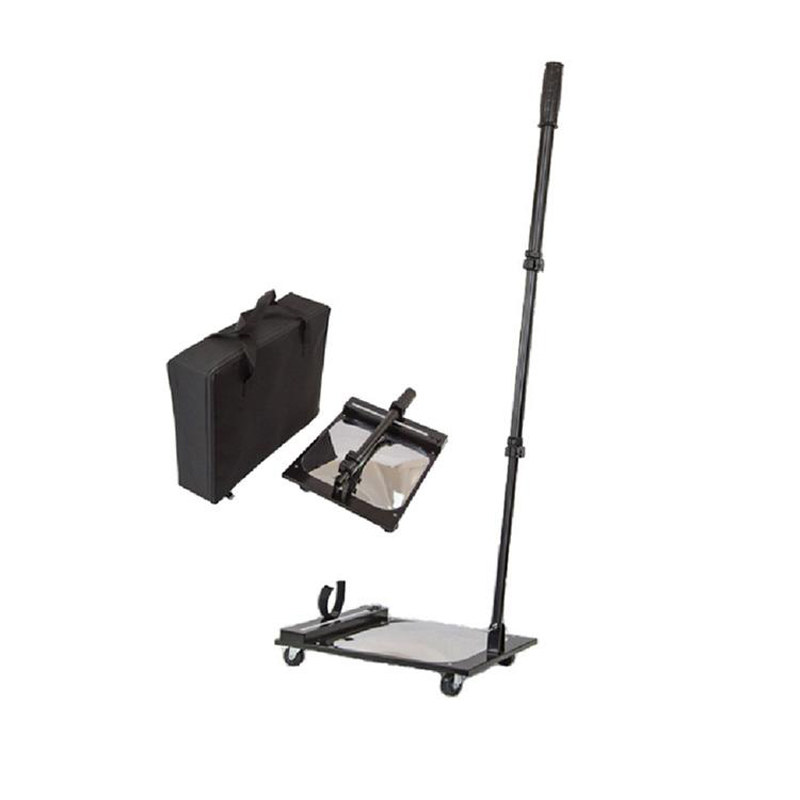 Product Description
The device you are viewing is an economical and simple Portable Under Vehicle Inspection Mirror. It has three support activities wheels, so it can be easily push forward. Besides the wide range of pole activity make it possible to adjust to space of various points of view. This under vehicle inspection operation design can be used for searching tables, chairs, vehicles and other objects need to bend down to search.
Besides the MW or removed at the end of round of the ML can be use to cabinets, ceiling and other objects that need climbing, in this way the Vehicle Inspection Mirror really bring us a lot of convenience. What's more, according to the situation a flashlight will be used to avoid missing the target object search in low-light.
Specifications
Mirror
1.30 ×30 cm Square high-intensity shatterproof acrylic mirror,convex-shaped two-fold amplification effect,as 1/2 weight as the an ordinary glass mirror of the same size,
2.With certain toughness, not easy to break, safe and durable, t
3.The brightness is as the glass mirror.
4.PS at the bottom can effectively prevent damage to the mirror caused by the collision.
5.minimum height:10CM
Grip
1.T-type retractable rod.
2.170degree joint flip change designed to maximize probe depth into the vehicles and goods, lactose shrapnel, plastic ring pairs of the insurance position,
3.Using high-quality aluminum structures and several high-intensity processing, light, strong and beautiful.
4.Outdoor grill surface clean room paint handling, long-term use does not fade, no peculiar smell, harmless to human body.
5.Equipped with a black cotton foam handle grip feeling good for a long time operation.
Light source
Fluorescent lamp. Fluorescent lamp with a light natural, soft features;
Power
Built-in lithium battery, 1-2-hour charge for 5-6 hours work.
Economic, convenient and practical.
Packaged with a standard power adapter.
Carry
Make the rod for folding fixed in aluminum case for easy withdrawn.
Equipped with portable bag for collection, when not in use.
Power:DC12V rechargeable battery pack
Light:energy-saving lamp
Handle Length: 1 meter
Weight:5.5KG
Packing Size:60*36*16cm (Aluminum Packaging)
Accessories
Convex
AC Adaptor
A small tube
T -shaped tube