Secuera-SE6040A X-ray Security Scanner and Baggage Scanners
SE6040A is an X-ray baggage inspection system which provides an effective inspection on big baggage and other items. It helps to identify suspicious items such as weapons, liquids, explosives, drugs, knives, fire guns, bombs, toxic substances, flammable substances, ammunition and other dangerous objects which may lead to potential safety hazard by atomic number identification.
High image quality in combination with automatic identification of suspicious objects allows the operator to quickly and effectively evaluate any luggage content.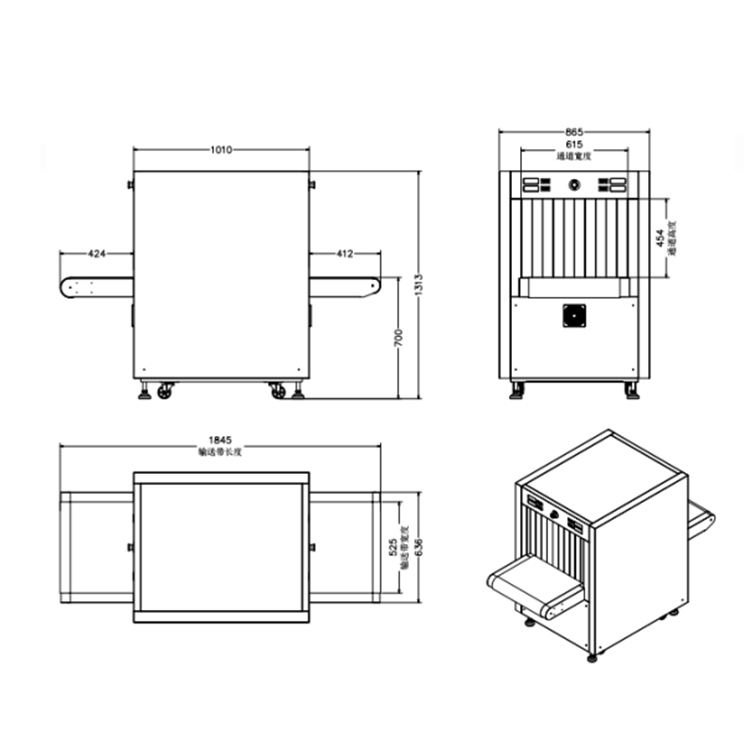 Product Specification Of SE6040A X Ray Baggage Scanner:
Basic Specifications:
Penetration: 30mm Steel Plate(140kV) /38mm Steel Plate(160KV)
Wire resolution: 40AWG
Penetration resolution: 32AWG
Spatial resolution: horizontal Ф1.0mm vertical Ф1.0mm
X-ray Generator
Generation direction: Bottom-Up
Tube voltage: 140~160kV Adjustable
Tube current: 0.4~0.7mA Adjustable
Cooling/ duty cycle: sealed oil / 100%
Generation angle: 80 °
Configuration
International brand electrical components
Industrial PLC circuit control,
Capacitance integral analog conversion, clear image
Industrial computer, long-term stable and reliable system
Ergonomic principle reading system,
Radiation protection system (close to natural background)
Image Processing
Color / black&white,
Organic / inorganic,
Super enhancement,
Edge enhancement,
Partial enhancement,
Grayscale scanning,
Image restoration,
Zoom in / out,
High / low energy penetration,
Continuous observation,
Playback (50),
Image storage(>10 w pic.)
Others
One key shut-down,
High density alarm,
Drug and explosive powder detection
Built-in Automatic self-diagnosis